[ad_1]

domain
industry history – (listed alphabetically by last name): Ammar
Kubba,  Richard
Lau, Gregg
McNair and Frank
Schilling (the links in their names point to Cover Story
profiles DNJournal published about those pioneers).
I
joined dozens of ICA members (a virtual Who's Who of domain industry
leaders) who thoroughly enjoyed hearing the expert's war stories and sage
advice in a fast moving session that was scheduled for an hour but ran an
hour-and-a-half (and could have easily continued for two hours more without
anyone losing interest). The talented quartet took time out of their busy
schedules to help raise recognition for the ICA and encourage membership
in the invaluable association that has been growing by leaps and
bounds in recent years. Since their commentary was meant for ICA members, I
will share just a few photos and notes here to give you an idea of what ICA
Virtual Events provide and the caliber of people they give you access to.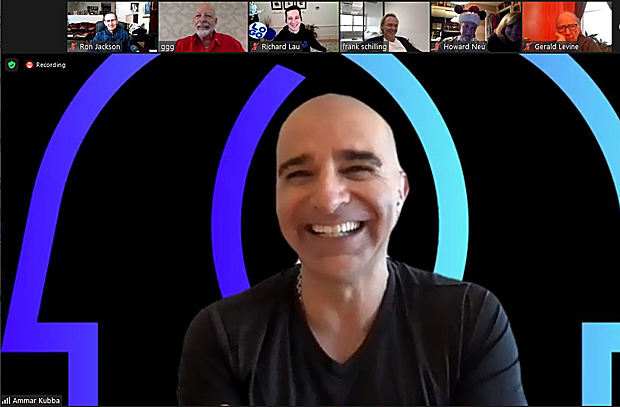 Above: Serial
entrepreneur Ammar Kubba originally entered the industry in 2005 as a
service provider, having co-founded one of the most successful early domain monetization
companies, TrafficZ. At the time Ammar was also an attorney, but once
bitten by the domain bug he turned his full attention to domains and soon
morphed from service provider to full time investor. Today Ammar recalled how
he and partner Kevin Vo and had started with almost nothing, spending
almost all the available cash they had on hand to pay for a booth at the
2005 T.R.A.F.F.I.C conference in Las Vegas. They had so little left
over they had to pile their exhibit and promotional materials into a rented
van with no air conditioning and drive it across the desert in the hot sun
from Los Angeles to Las Vegas in a quest for  customers. They did
better than they could have dreamed of and Ammar has been on an upward
trajectory ever since. He is especially happy with his switch from service
provider to domain investor several years ago.  "It's a lot more fun
to be on this side of the business!," Kubba laughed. 
Kubba has supported
the ICA from Day 1, knowing that in order to thrive, industry members have to band
together to insure their rights are protected and that the public is made
aware of the positive aspects of the industry and the critical role domains
play in today's business world.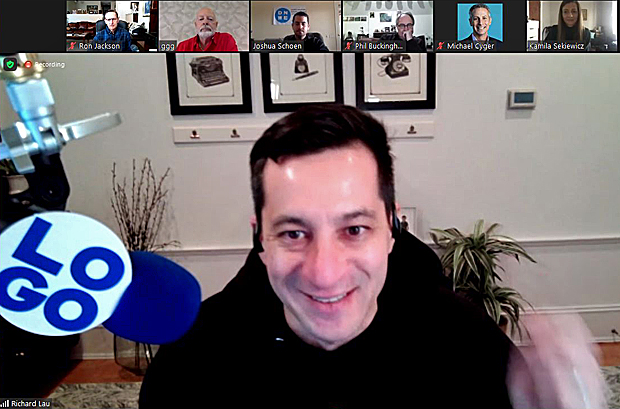 Above: Richard
Lau has also had a meteoric rise in the domain world but the fact that he
is here today at all is a true miracle. Soon after entering the
business with his own domain registration company, Richard was diagnosed with
cancer and was told he had three to six months to live. He was not
expected to make it to his 30th birthday but he beat all the odds and beat
cancer, going on to a full recovery and a new outlook on life. Some industry
friends took Richard under their wing and taught him how to invest in and
monetize domains and he was off to the races. With a desire to give back,
Richard adopted the Water
School charity and co-founded the NamesCon
conference with Jothan Frakes as a way to raise money for the Water
School. He also continued to assemble a great domain portfolio and started
building businesses on his best names like Resume.com and his current
project, Logo.com. 
Like so many in the
industry, Lau has been especially impressed with the camaraderie that exists,
even among competitors, in our field. "It is a breath of fresh air,"
Lau said, adding "I have been in cut-throat businesses before so seeing
the kind of acceptance and camaraderie we have in the domain industry is mind
blowing!" As to why he is a major supporter of the ICA (and gave the
organization a huge push at NamesCon events), Lau said "I like to have
people who are smarter than me protecting our interests and a guy like
ICA General Counsel Zak Muscovitch is a perfect example." Lau has
first hand knowledge of why domain owners have to have a powerful advocate
to protect their rights. He described spending seven years and spending
a six figure sum to win a legal battle over his RL.com domain
and knows frivolous attempts to hijack valuable domain names have to be
stopped. The ICA, with its active participation in ICANN (the
industry's rule making body) is our first line of defense on that front.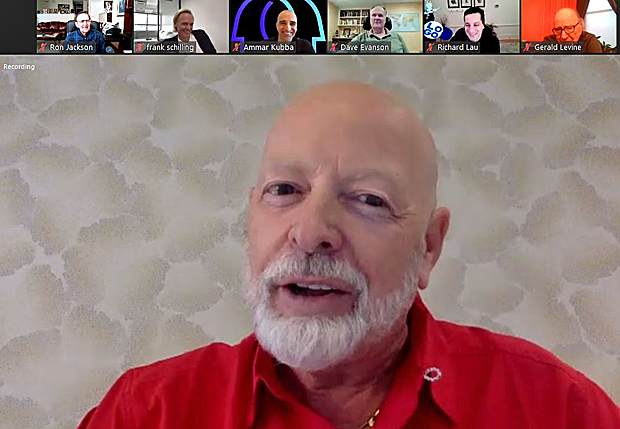 Above: In addition
to sharing his own story, multi-talented businessman Gregg McNair (PPX
international Chairman) served as the moderator in today's discussion
with his three pioneering companions. Gregg, who has invested in numerous
successful domain industry enterprises as well as individual  domains and
portfolios, never misses an opportunity to speak out on behalf of the ICA. He
has also been one of the main architects of the sense of community you
hear so much about in the domain world. 
Gregg knows success
is built on relationships and over the years he has gone out of his way to
give industry participants a place to meet face to face – not only do
business, but often form lifetime friendships. At just about every important
domain conference over the years he would open up his own hotel suite and
welcome all show attendees to gather there after hours. Those
gatherings, much to the alarm of hotel staff, could sometimes run all night
but they were much more than just late night parties – they were can't miss
events that helped make this the kind of business Richard Lau described as a
breath of fresh air.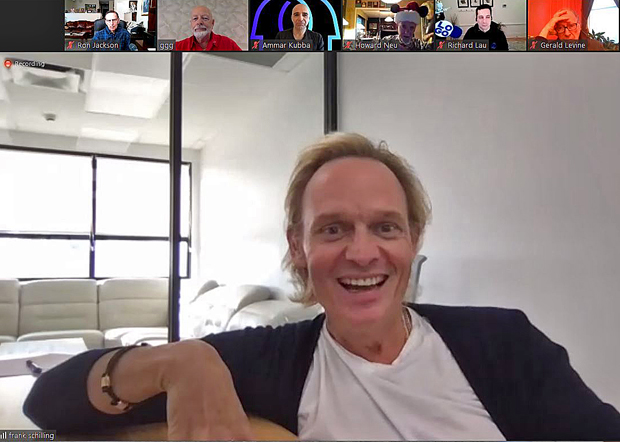 Above: Frank
Schilling, a true legend in the domain world (and the subject of two
DNJournal Cover Stories (2007
and 2012),
would be all the reason anyone would need to take a seat at the ICA Virtual
Event today. In addition to building a world class domain portfolio from
scratch, Frank founded an innovative domain registrar – Uniregistry.com
– that domain pros (including me) flocked to. Industry giant GoDaddy
took notice and bought Uniregistry (and the bulk of Frank's domain portfolio)
in a nine-figure transaction this year. Frank was instrumental in the
forming of the ICA itself and has continued to help fuel the organization's
growth ever since it was founded in 2006.
Since selling
Uniregistry Schilling has gotten involved in several other endeavors including
starting his own record label. Known as one of the nicest guys
in the domain business, one who freely gave encouragement and valuable advice
to newcomers, Frank set about doing the same for talented young musicians in
the Cayman Islands where he lives. To his surprise, that eventually led
to making some major contacts in the L.A, music scene and getting a key
investment opportunity in a music company there. Frank saw that as just more
proof that when you do good things for others good things come back to you.
"That all came about from just trying to help some kids make music,"
Frank said, adding, "It was not an accident – there are no accidents!"  
The endorsement of
these four gentlemen says a lot about the ICA. They and the
organization's current members have all seen what a great job the ICA's General
Counsel Zak Muscovitch, Executive Director Kamila Sekiewicz and the
Board
of Directors have done over the years. If you are a domain
industry professional you owe it to yourself to join
the team and take your own seat at the next Virtual Event!
[ad_2]

Source link