Welcome to the The
Lowdown from 
DN Journal – your source for notable news 
and information from all corners of the global domain name
industry! 

The Lowdown
is compiled by DN Journal 
Editor & Publisher Ron Jackson.
---
TheDomainShow.com
Announces Speakers and Opens Free Registration
for Upcoming Online Conference
The
Covid-19 pandemic
has, for now, closed the door on
traditional domain conferences
where attendees travel to a
central location to meet face to
face. However, domain investors,
developers and service providers
will still have a couple of
opportunities to gather online for
virtual conferences this summer.
We previously told
you about the NamesCon
Online conference coming up in
September. Now domain industry
veteran Page
Howe has opened
registration for an earlier event,
The
Domain Show, that he
will be producing later this month.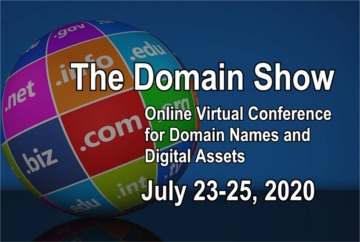 Howe today also
announced the first two dozen speakers he has lined up for the
three-day virtual conference that runs July 23-25. The all-star roster includes Andrew
Rosener, Braden Pollock, Jeff Gabriel, Michael & David Castello, Ari
Goldberger, Larry Fischer, Alan Hack and Shane Cultra, to name just a few.
Howe said the list of speakers and presenters will expand to more than 40 by
show time. The entire line-up (and new additions as they are confirmed) can
be seen on the show
website.
Howe, who will serve a host, is a domain name marketer, investor and
educator who has sold over 5,000 domain names over his more than two
decades in the business, including two of the top all time sales at over $1
million each (Seniors.com and Guy.com). Page also heads up local marketing for the
.LA local domain namespace for Los Angeles, writes and make educational videos at
DN.BIZ and runs the wholesale marketplace
DomainOutlet.com.

In addition to two free registration
options for The Domain Show, there is a $99 premium option that
comes with some additional perks. Howe added, "There are also
sponsorship opportunities that will provide access to a global audience before and during our show,
as well as 24/7-365 access through repeats and replays. Contact page@pagehowe.com
for more information on that."

Page
Howe
*****
(Posted
July 6, 2020)