Welcome to the The
Lowdown from 
DN Journal – your source for notable news 
and information from all corners of the global domain name
industry! 

The Lowdown
is compiled by DN Journal 
Editor & Publisher Ron Jackson.
---
The
Year's First Online Domain
Conference is Underway at TheDomainShow.com
Earlier
this month
we told
you about a new online
only domain conference called The
Domain Show that was
being put together by industry
veteran Page
Howe. That free
admission event got underway
Thursday (July 23) with a full
slate of sessions and will be
continuing through Saturday (July
25). The free
ticket, made possible
through the sponsorship of DAN.com,
lets you view all sessions live,
but also lets you replay
any sessions for 48 hours. So,
even if you haven't registered
yet, you can still see all of the
opening day sessions. A VIP Pass
is also available for
$199 that will give you unlimited year
around replays as well as
additional VIP content.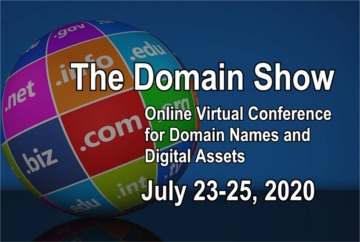 The opening day
scheduled featured sessions on Domain Development & SEO, Expanding
the Domain Market, Monetization, GeoDomains, Marketing
Tips and special interview sessions with Squadhelp CEO Darpan
Munjal and domain industry pioneers Michael Mann with Bill
Sweetman, and Monte Cahn.
Another busy day
is on tap today (Friday, July 24. You can see the full
schedule here. At 3:15pm (US Eastern time) I will be on to
conduct an interview with Castello
Brothers Co-Founder David Castello who will be talking
about The Future of .Com. David and his brother Michael got
started back in the 1990s and have had great success both selling and
developing top tier domains. That is a session you won't want to miss and
the same can be said for the entire Friday line-up that kicks off at 12:30pm
(US Eastern time).
*****
(Posted
July 24, 2020)