With
very few exceptions,
domain people are entrepreneurs at
heart. Over the years I've lost
count of how many started out
working for someone else in this
field, then went on to open
their own shop. The latest to
do that is veteran domain broker
Arif Sengoren, whom I've known
ever since he entered the
domain world as a Domain Sales
& Acquisitions Specialist with
NoktaDomains
in 2010. Arif piled up millions
of dollars worth of sales in his
five years there, then millions
more after he moved on to Uniregistry's
DomainNameSales unit. Now, he
has decided it is time to fly
solo, so he just launched his new
firm at SecretBrokerage.com
(I guess it's not a secret
anymore)! 
Arif
embodies something about domain
people that has always fascinated
me – the 
incredibly diverse backgrounds they
came from before stumbling upon
this business. As a still
relatively new field, there aren't
many who started their business
careers in our world. Many were
doing something dramatically
different, with no connection
to domains or even the Internet
itself.
In
Arif's case, he went almost
directly into domains after
college but his degree was
in…drum roll please….agricultural
engineering! At first blush,
that might look as far away from
domains as you could get, but
there is a common thread – technology.
Agricultural engineering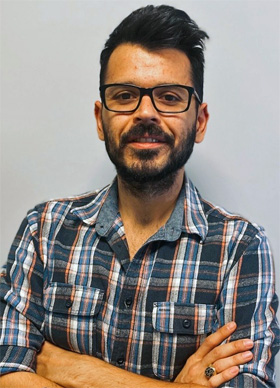 Arif
Sengoren
Founder 
SecretBrokerage.com
involves
the design, construction and
improvement of farming
equipment and machinery.
Agricultural engineers integrate technology with farming.
After joining Nokta, Sengoren kept
a foot in both camps for quite awhile. In addition to dealing in domains at
Nokta he started taking classes aimed at getting an advanced degree in
agricultural engineering. Arif explained how this tug of war came about and
eventually got resolved. "I
was into "selling" when I was a kid," Arif noted. " I
started selling some pastry summertimes, then game and music CDs when I was
at high school. I was organizing events and selling tickets when I was
studying at the University. While doing my Masters in
"wind-erosion", I was also looking for a job in sales and heard
that Nokta was looking for a Domain Sales Representative. I applied for the
position and got accepted. The domain part was actually quite random.
However, after I got into the domaining, I loved it and dropped out
of my master's degree program to fully focus on it. 

Looking back at his
highlights over the past decade, Sengoren said, "I sold and/or acquired
thousands of domains for over $5 million on behalf of Nokta. We broke
the highest domain sale record for the Turkish Domain market by selling UcakBilet.com
for $250,000. Then, when I moved over to Uniregistry (formerly
DomainNameSales.com) for the next four years, I brokered around 700-750
domains for roughly $4 million USD. My highest sale was Kiwi.com for $800,000.
Plus, I set another record  for sale made in Turkish currency (Turkish
lira) by selling MNG.com for the USD equivalent of $141,960.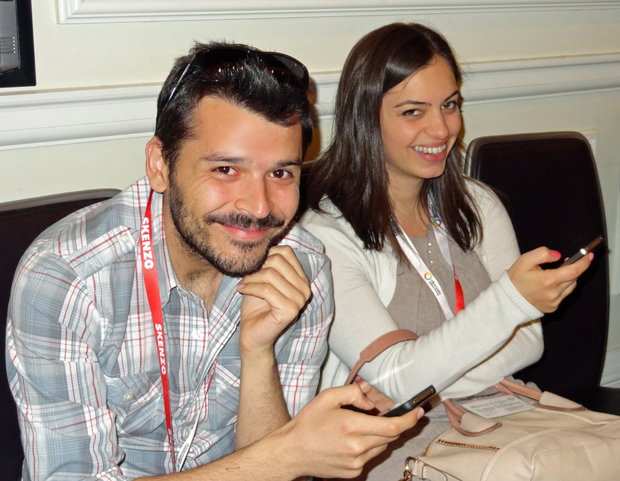 In
this shot from the 2013 T.R.A.F.F.I.C. West Conference in Las
Vegas, we caught up with 
Arif Sengoren (left) and his then fellow Domain Specialist at
NoktaDomains, Merve Engin.
Now that Arif has decided to
realize every entrepreneur's dream and work for himself, Sengoren feels he
has a good grasp on what will make his company different in a very
competitive space. "There are definitely a lot of great marketplaces
and brokerages that are mainly focused on selling domains," Arif
said. "That's why I decided to focus on domain acquisitions,
appraisals, portfolio management, creating and maximization (with
subscription), and online brand protection. My motivation is to help
domain/brand owners understand their assets and manage them to maximize
their profit and protect them from online threats with very competitive
prices."
Of
course, we had to ask – what's behind the name, Secret Brokerage?
"There
are two reasons," Arif said. "I believe every broker has their
own secret and I thought using this within the name would be a good idea
. Second, lots of buyers prefer staying anonymous on the acquisition
side so I thought the "secret" keyword would cover that as
well!"
So,
now you know the reason for the name
but this may be the last time you see Arif "spill the beans!"