Radix
has released their latest
semi-annual report
(.pdf file) detailing the new gTLD
registry operator's premium
domain sales results for the second
half of 2019 (2H-2019). Radix
administers nine gTLDs –
.store, .tech, .space, .site,
.store, .website, .fun, .press and
.host. The company reported $1.67
million in total premium sales
over the six-month period, a 22%
jump from the $1.36 million
logged in the first half of the
year. That second half surge gave
Radix their first $3 million
premium revenue year.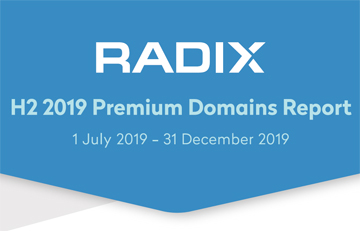 The
report said .online, .tech
and .store were Radix's
highest grossing TLDs with respect
to premium sales revenue.
Clean.tech at $30,000 via
Sedo was their highest single sale
in 2H-2019. Radix rang up more than
220 sales of at least $1,000 in the
second half of 2019. 
The
company also reported an impressive renewal
rate of 82% for premium domains
originally registered in 2018 or
before.