Welcome to the The
Lowdown from 
DN Journal – your source for notable news 
and information from all corners of the global domain name
industry! 

The Lowdown
is compiled by DN Journal 
Editor & Publisher Ron Jackson.
---
Radix
Racks Up Nearly $1 Million in
1H-2020 Premium Domain Sales and
Rolls Out New Name Spinner Namify
During
last week's
first ever NamesCon.Online conference,
several domain industry companies
reported outstanding sales
results despite the Covid-19
pandemic. Perhaps, I should say
"because of" instead of
"despite" the
pandemic,  because Covid-19 has driven millions of
grounded people online this year,
including many business owners
looking to establish or strengthen
their web presence. 
Radix,
a leading operator of new gTLD
registries, was among those who
who reported extraordinary
results. In breaking down how the first
six months of this year went
for Radix, Karn Jajoo,
their Head of Premium Portfolio,
noted, "There
has been consistent growth in
Radix's premium revenue – both
from new registrations and
renewals. Premium
registrations in the first half of
2020 were 97% higher than
in the first half of 2019 and 41%
higher than in the second half
2019."  Radix's full 1H-2020
report (.pdf file) shows
the company raking in over
$971,000 for new premium
domain registrations with their
top three revenue producing TLDs
being .tech, .online
and .store. 
Jajoo
said, "While
premium registrations and revenue
have grown consecutively for
five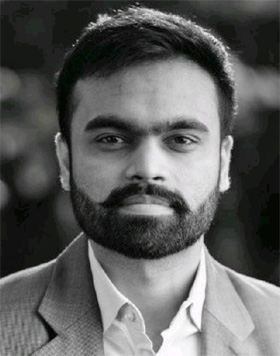 Karn
Jajoo
Radix Head of Premium Portfolio
quarters
since Q2-2019, the global pandemic has led to an unprecedented demand
in eCommerce and an accelerated need for web presence as businesses of all
kinds continue to move online. This led to a surge
in adoption of premium domains in meaningful extensions that are
particularly suited for the new normal. For example, premium .store

registrations in Q2 2020 were up by 5.5x compared to the same
Quarter in 2019."
In
another new development at Radix, the company just launched an
innovative new name
spinning tool called Namify (at Namify.tech)
that helps registrants find a memorable domain and matching
identifiers for their enterprise. The press release announcing the
new service noted, "The name-spinner is aimed at 

solopreneurs, small business owners and startups looking for affordable brand
building solutions that include brand name, domain name,
social media handles as well as a brand logo. Namify's algorithm ensures the word
pairings are contextual, grammatically correct and logical, adding
"It is built on machine learning techniques that improvises on
the brand name suggestions overtime based on user behavior." 
Radix CEO Sandeep Ramchandani said,
"Radix is focused on engaging and empowering businesses and ideas
to build a meaningful presence on the Internet. The first step
towards building a successful online brand is getting the name
right. We want to help our users with that crucial first step."
Regarding
the inclusion of social media handles with the domain name, Radix
pointed to a recent study by Sprout
Social,
that found 77% of consumers say they are more likely to buy
from a brand they follow on social media over one they do not;
making it crucial to choose a social handle that is available across
multiple platforms; a feature that Namify has integrated into its
offering. 
This is Radix's first ever foray into
the brand name-spinner space. Namify is equipped to suggest intuitive
brand names and corresponding domain names on all of Radix's 10
domain extensions that include .tech, .store, .online, .site, .store,
.fun, .space, .website, .host, and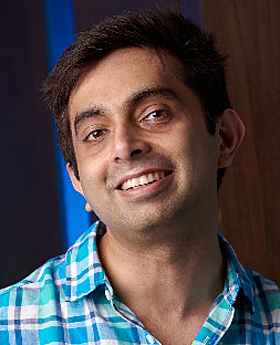 Radix
CEO Sandeep Ramchandani
.uno. Namify also suggests availability
of social media handles along with offering hundreds of logo
options to choose from as a free addon at the end of the
domain name purchase. 
(Posted
Sept. 14, 2020)
*****