In
our bi-weekly domain
sales reports the
prices shown are normally the
total amount the buyer paid to
acquire a domain including any
commission charged by a brokerage,
sales platform, etc. For example,
if a buyer pays $10,000 for a
domain at Sedo that is the
price they report to us. Sedo collects
the money, takes put their out
their sales  commission, then
sends the balance to the seller. The
rare exceptions have been
when we've only been able to
confirm the amount the
seller received. Such was the case
in the largest all cash sale ever
reported – Voice.com at $30
million last
year. The buyer also
paid Godaddy an undisclosed
brokerage fee that was
not included in the charted price.
Last
week we reported another big sale
at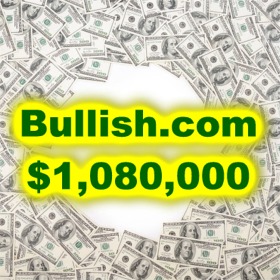 GoDaddy
for Bullish.com that netted $900,000 for the seller. GoDaddy's
typical commission is 20% but, again, we weren't sure if the
percentage rate might have been negotiated at a different level for a high
dollar sale like this. So, as with Voice.com, we charted Bullish.com at the
lower net price we had proof of. Today we learned that GoDaddy's fee, paid
by the buyer for Bullish.com was $180,000 (20%) so they paid $1,080,000
total to acquire the domain. With the new information in hand we will
update our report and charts to reflect this. That also makes Bullish.com
the first publicly reported sale of over $1 million this year.
Congratulations again to Murat Yikilmaz at BestWeb.com
(and GoDaddy) on that landmark transaction.
We
still don't know was the brokerage cost was for Voice.com (a domain that
cost more than 30X more than Bullish.com). However, if it was also 20% that
would push the price paid all the way up to $36 million! Whatever it was, a
year later, Voice.com is still playing in a league of its own.