Welcome to the The
Lowdown from 
DN Journal – your source for notable news 
and information from all corners of the global domain name
industry! 

The Lowdown
is compiled by DN Journal 
Editor & Publisher Ron Jackson.
---
Pioneering
Domain/Investor Developers Michael
& David Castello Launch New
Site at CastelloBrothers.com
Michael
& David Castello
are very distinct individuals
but in the domain world they've
been so successful together that
they have turned The Castello
Brothers into a third equally
prominent identity. We first wrote
about them back in 2006 in a Cover
Story that remains one
of the most popular ones we've
ever published. Since then we've
written about several of their
landmark sales, including a 2014
Cover Story that
provided an inside account of the $3.1
million sale of Whisky.com.
They are equally well-known for
their successfully developed
websites including PalmSprings.com,
Nashville.com
and, most recently,  Kennel.com,
a site that was just launched in
March.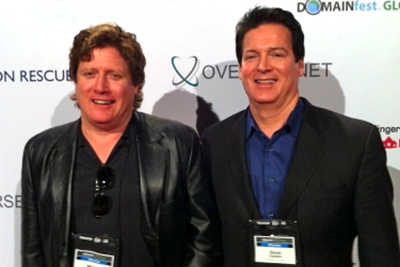 The
Castello Brothers: 
CEO Michael (left) & COO David
Co-Founders, Castello
Cities Internet Network
Still, the
brothers, with many similar category defining .com domains in their
portfolio, have much more to do. Today, they opened the next chapter of The
Castello Brothers story by announcing the launch of a new site at, where
else?, CastelloBrothers.com.
The site features many of their premium domain names for sale, biographies
about the brothers and a F.A.Q. section that contains their unique
perspective about what makes these names so valuable.
Michael said, "We equate owning
premium domain names such as Cost.com, Sample.com and Traveler.com
to undeveloped beachfront property. Development takes vision,
but the monetary benefits are incredible. Regardless, as much as we
enjoy breathing life into these names, my brother and I began to
realize that it would be impossible to develop all of them."
The new site gives them a showcase to offer other entrepreneurs an
opportunity to acquire and develop a top tier online business of
their own.

At
left: Michael Castello, wife Sheri and daughter
Jessica with Diana Jackson at Marina del Rey in Los
Angeles.
Michael added, "COVID-19 forced a
lot of people to work from home and these premium names
are the perfect vehicle to build a
successful on-line business from the convenience of your home
office. David and I generated millions of dollars from the power of
these worldwide brands and we did it all from home."

With the launch of Kennel.com,
the brothers think they have another big winner on their hands.
David said, "We changed our minds about selling Kennel.com and
I'm glad we did. By the end of 2020, Kennel.com will be one of the
largest sites about dogs in the world."

David
Castello and wife Bree on their way to visit
the Castello family's ancestral homeland in Italy.
You can read more
about Michael and David here
and can also contact them through CastelloBrothers.com.
*****
(Posted
May 29, 2020)