Domaining
Europe, was founded by Dietmar
Stefitz, who turned the
reins over to NamesCon after
co-producing last year's 10th
anniversary event with them.
Here
are some photos and highlights from
the second day of the 2019
conference Friday (photos are courtesy of NamesCon
Europe except the evening cruise
shots at the end that are credited
to their contributors):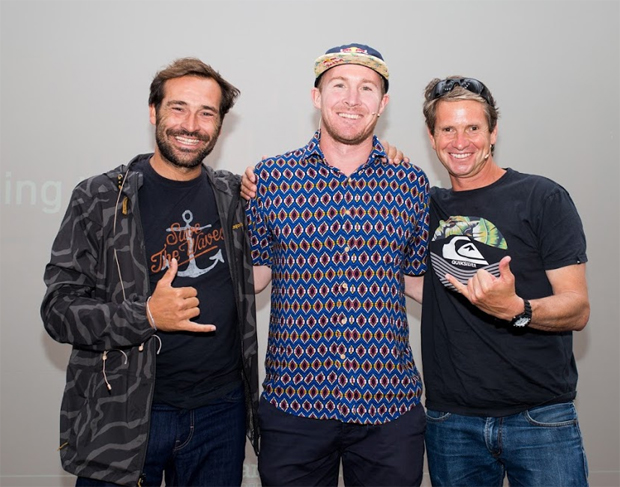 Above:
Day 2 Friday began with what had to
be a first for any domain
conference – A conversation
conducted by NamesCon President and
CEO Soeren von Varchmin with Pro Surfers
(left to right) Andrew Cotton,
João de Macedoa and Alex
Unwin, titled At One with the Forces of
Nature. Cascais is a center
of surfing culture in Portugal and
NamesCon always tries to give
attendees some of the rich flavor of
the unique cities that the show
visits. Attendees could take what
they learned from the pros Friday
and apply their tips in an actual
Surf Class that is part of the
agenda for Saturday's conference
closing Beach Party.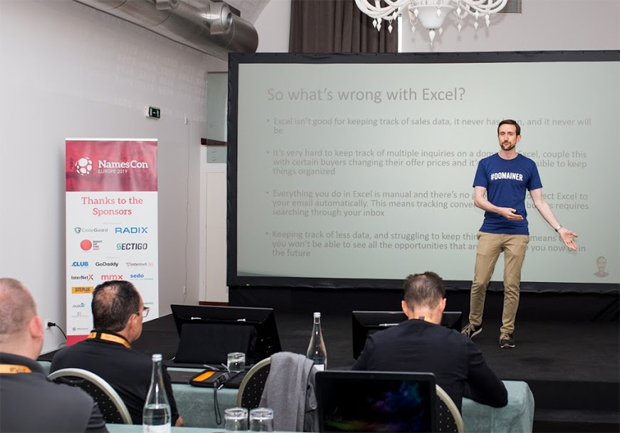 Above:
It was back to domains at 11:50am
when Morgan
Linton took the stage to
provide advice on Using Tools to
Better Track Your Domain Sales
Funnel. 
Below:
Next up, Pavel Ciocan, Head
of Development at Internet.bs,
drew a crowd to his session on Making
Domains Simple Again – a practical
demonstration of unique solutions to
managing large portfolios of domain
names.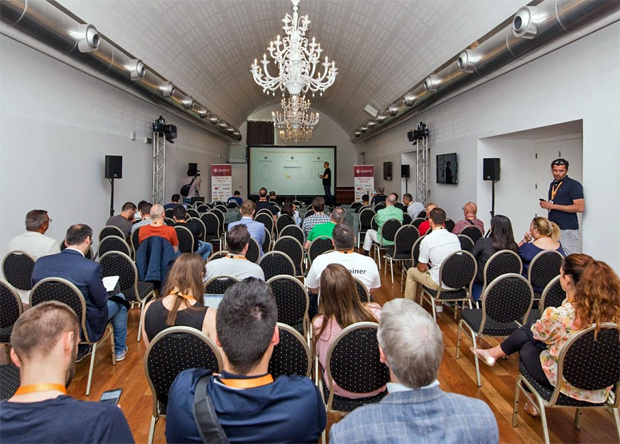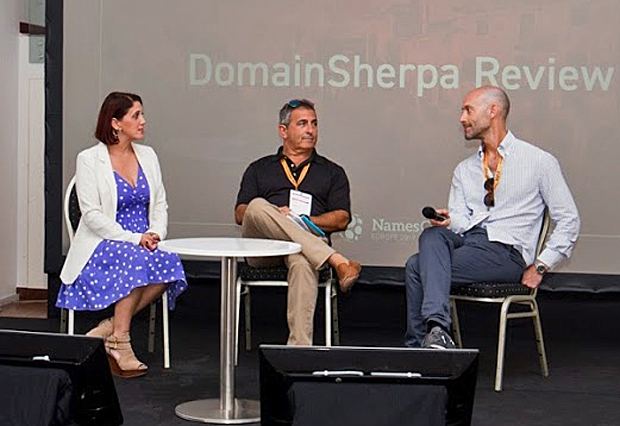 Above:
In the last session before the
afternoon lunch break, another
popular Domain Sherpa Review
gave attendees insight into the key
elements that make specific domain
names valuable. This session
featured experts (left to right): Tess
Diaz (Domain Sherpa), Monte
Cahn (RightOfTheDot.com) and
broker Andrew Rosener (MediaOptions.com).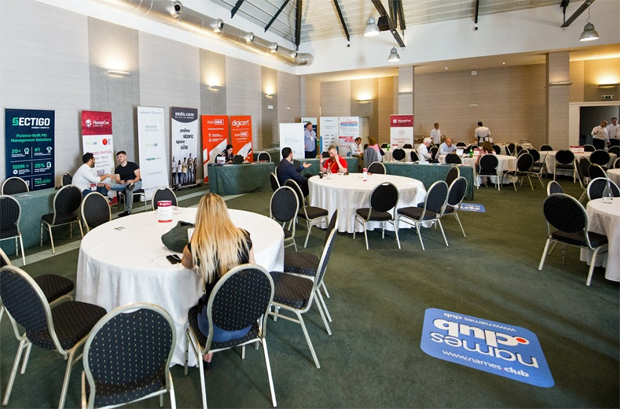 Above:
A look at one corner of the Exhibit/Lunch
area before attendees started
streaming in for the Friday
afternoon lunch break. It was also a
popular spot for one on one
meetings when the rest of the crowd
was in the adjacent Session Room
listening to speakers.
Below:
Top Level Design CEO Ray
King (at right) chatting with a
friend in the Exhibit area Friday.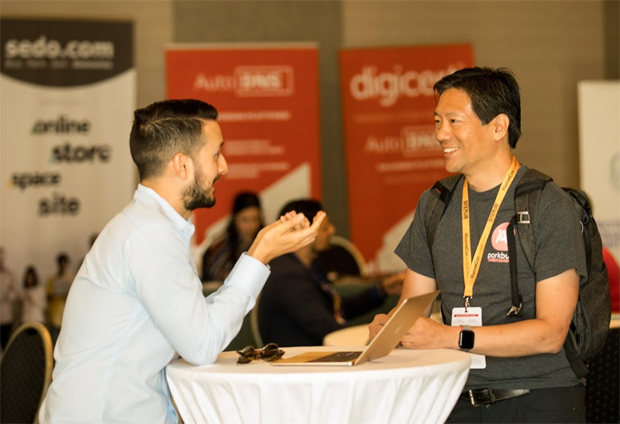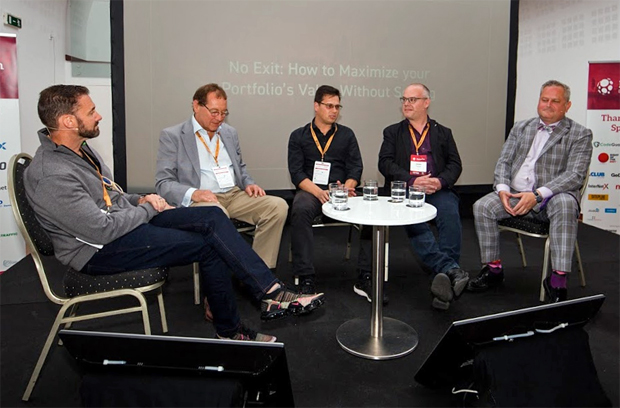 Above:
Back in the Session Room at 2:30pm,
a panel discussion got underway
called No Exit: How to Maximize your Portfolio's Value Without Selling.
The panelists examined ways to
determine if your domains could be
more valuable to you as a source of
recurring revenue rather than assets
to be be sold off. This discussion
featured (left to right): Moderator Braden
Pollock, Dave Roberts (ProtectedParking.com),
David Warmuz (President and CEO,
Trellian/Above.com), James Tuplin
(Director of Business Development,
Bodis.co) and Yancy Naughton (Founder
at HasTraffic.com).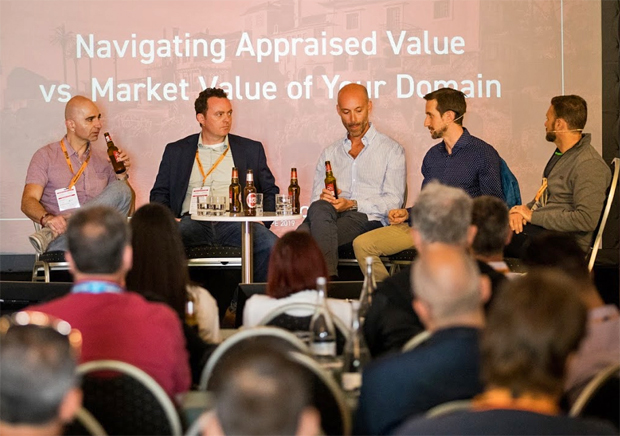 Above
& Below: After the afternoon
coffee break, the final business
session of NamesCon Europe 2019
brought everyone back to the Session
Hall to hear about Navigating Appraised Value vs. Market Value of Your Domain.
The experts detailed the difference
between your appraised value and the
actual market value of a domain,
helping you sharpen your
expectations if you decide to sell.
This session featured (left to right
above): veteran domain
entrepreneur/investor Ammar Kubba,
Joe Styler (GoDaddy), Andrew
Rosener (MediaOptions.com), Morgan
Linton and moderator Braden
Pollock (LegalBrandMarketing.com).
When they were done it was time to
toast a job well done and the
conclusion of the business portion
of this year's show.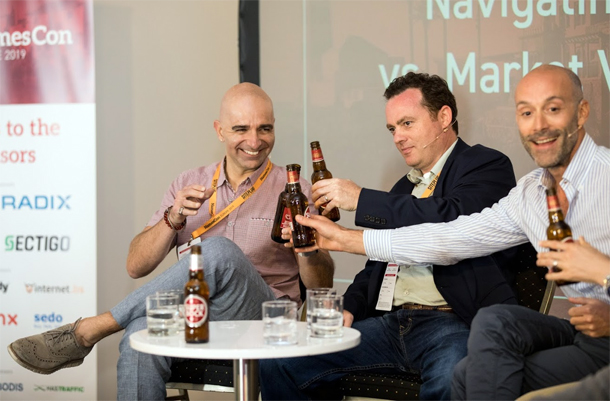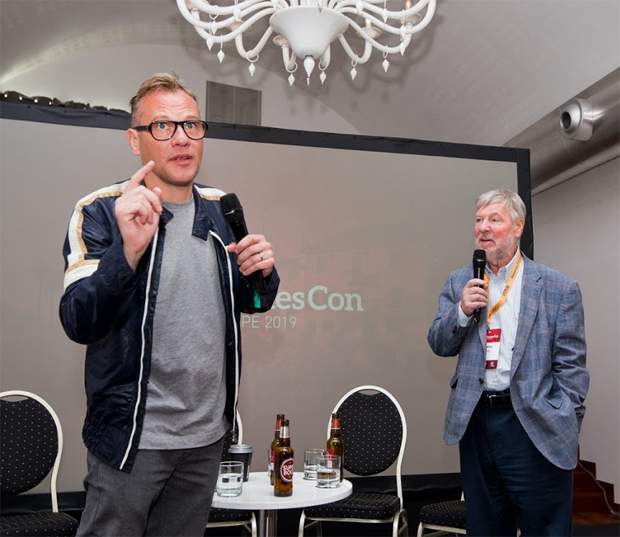 Above:
NamesCon President Soeren von
Varchmin and Founder Dietmar
Stefitz took the stage for some closing
comments and to break some news.
Soeren revealed that locations have
already been chosen for the next
three editions of NamesCon Europe.
The show will go to Budapest in
2020, on to Rome in 2021
and Cologne in 2022. I like
those choices and am already making
plans for Budapest, with a pre or
post show side trip to Prague (a
short flight from Budapest, but I
will probably take the train as I
love rail travel in Europe).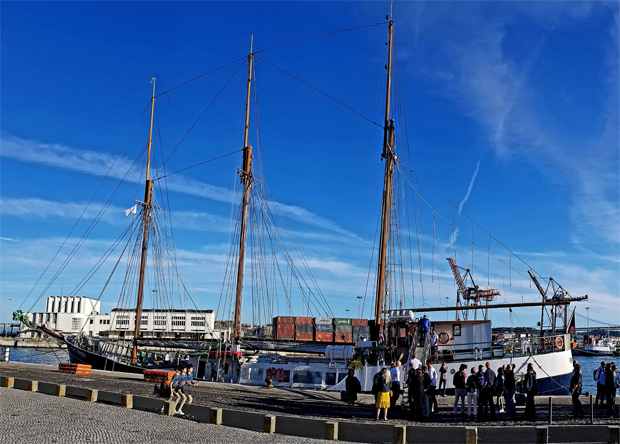 Above:
While the business sessions were
done the the show was far from
over. Now the focus would be
entirely on social events starting
with an evening sailboat cruise
Friday sponsored by Lisbon-based
brokerage GGRG.com.
This vessel took guests along the Atlantic
Ocean shoreline that attracts so
many people to this part of Portugal.
(Photo courtesy of Mark Ghoriafi).
Below:
LegalBrandMarketing.com Founder and
NamesCon Europe Moderator Braden
Pollock and his wife Lisa
Bloom staked out a prime spot to
enjoy the Friday evening cruise.
(Photo from Braden's Facebook page).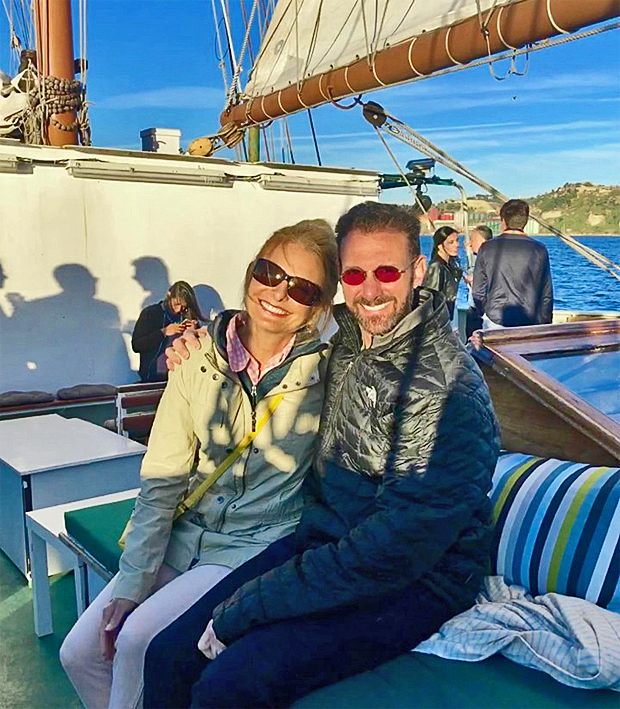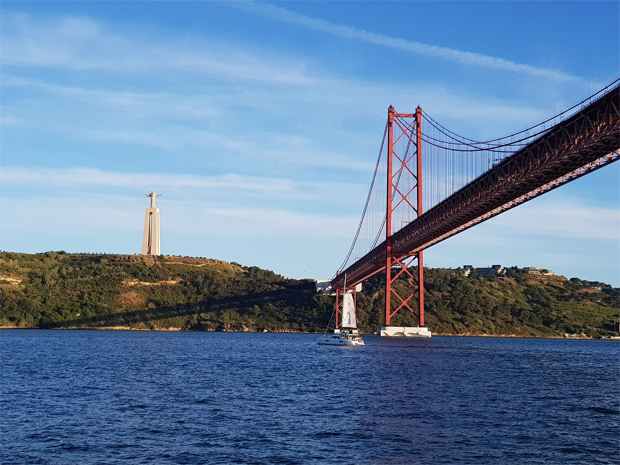 Above:
A view of the Cascais shoreline
from the GGRG.com saiboat.
Below:
.GLOBAL Registry CEO & Founder Rolf
Larsen (left) and .GLOBAL
Marketing Manager Mark Ghoriafi on
deck. Thanks to Mark for these two
shots!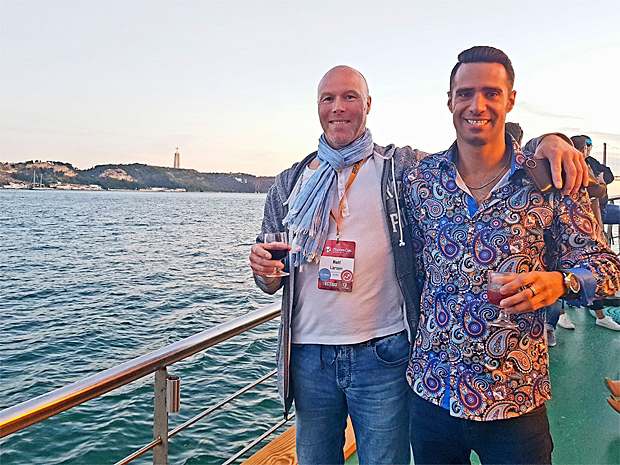 With
Day 2 in the books there was
still one day left to go at NamesCon Europe 2019
– one that would be dedicated to a
day-long Beach Party in Cascais
Saturday. We will wrap up our
conference coverage with some shots
from that event in our next Lowdown
post.