International
domain brokerage firm Guta.com
has released their latest quarterly Premium
Domain Sales Observation Report
(.pdf file) covering the first
quarter of 2020. With offices in
both the U.S. and China,
Guta, founded by CEO George Hong,
has a great vantage point to see
what is happening in the domain
aftermarket in both the Eastern and
Western hemispheres. Their reports
focus primarily on .com
domain sales in these categories: 1-4
Numbers, 1-3 Letters, 2
Characters and one-word English
dictionary domains. 
As you
would expect with China battling the
coronavirus  epidemic for the
entire quarter and the U.S. doing so
in the final month of it, sales
activity was negatively impacted.
The Guta report tells the story in
an extensive series of charts then,
in a final summary, notes
"relatively low sales volumes
across all categories of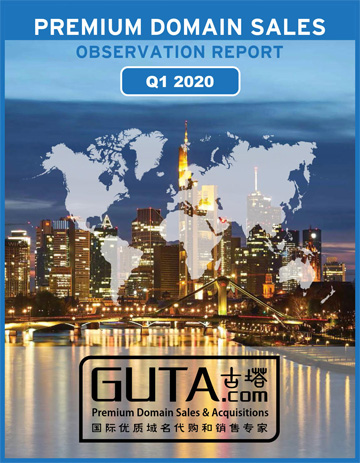 premium
domains. Total sale counts of
domains in LL .com, NN .com, NNN
.com, NL .com, LN .com categories
dived to 9-quarter lows.
Total sale counts of domains in NNNN
.com and one-word English .com
categories fell to the lowest level
in 4 quarters."
It
goes on to say, "The world is
experiencing uncertainty and
hardship due to the unprecedented
coronavirus pandemic. In Q1 2020,
cash was indeed king for many
investors, who were selling
everything from stocks to bonds to
gold to bitcoins aiming to raise
cash. Under the circumstance, many
premium domain owners were more
motivated to sell, however most
premium domain buyers suspended
their purchases or lowered their
budget substantially."
Still
the report found some bright spots,
adding "The end-user
purchase rate of one-word English
.com domains showed
year-over-year growth." The
Guta chart showed this category has
rocketed to a 41.67% market
share in Q1 2020 after holding just 25.8%
of it two years ago. Guta reported
that, "End users are still actively
buying domain names. Businesses
adapt to the pandemic by moving
online. There will be a higher
demand for premium domains from
end-users. The new online businesses
probably will start with hand
registered domains or low priced
aftermarket domains. Some of the
companies will choose to upgrade
their domain names to premium ones
when their online business flourish,
and they have money to spend. There
is hope ahead!"