we connected with NamesCon CEO Soeren von
Varchmin and the Head of NamesCon Operations, Helga
Neumer, to get the details. Soeren got the ball
rolling by explaining how the concept for a broader
"domain economic forum" came about:
NamesCon
CEO Soeren von Varchmin

Soeren
von Varchmin: It's
become clear over the last few years that some
big-picture issues have to be examined, and
NamesCon is the best place to do it. Two main
questions came up: what are the real economic
forces that are shaping the domain industry, and
what can we as companies and individuals can
do to move this industry forward? No
matter where you fit into this exciting
industry, you'll find out how you can take
real steps toward making this happen. Austin
is the perfect place for this, because it's
the startup capital of the universe
right now! Early-stage startups releasing
their products for the first time are primed
to acquire the domain name they actually need.
The idea here is, let's get everyone in the
same room.

Helga Neumer:
Also, Austin is a very walkable city,
with lots of live music and great places to go
out at night. This will make for a really fun
social calendar!
DNJournal:
In looking at the agenda
that stretches over three full days of business, one
of the first major changes one sees is the
establishment of two clearly defined tracks – one
aimed at newcomers and one for industry pros
(though attendees can go to any session on either
track and everyone will be brought together for
special events, like the keynotes). In the past we've
seen everything from shows with a single track for all
attendees to conferences that could have an many as
five sessions going on at once. Why did you settle on
this streamlined two-track approach and the
information that would be offered on each?

Soeren:
The agenda is more focused than it's ever been,
but it's important for everyone in this industry to feel
welcome and empowered. This means getting
newcomers up to speed quickly so they can participate
in some of the sessions happening later in the
conference. The tracks were created as a pathway
to answering the key questions I mentioned earlier.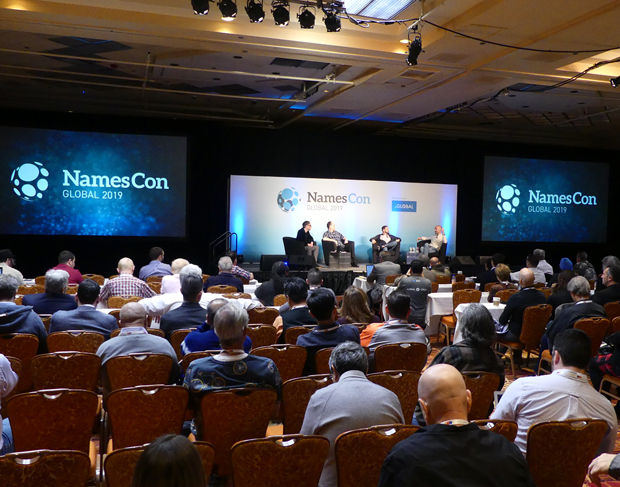 A
scene from one of the panel discussions at the 2019
NamesCon Global conference.

DNJournal:
The names
of the speakers for nearly all of the
sessions have now been posted on the NamesCon website.
Among the dozens of sessions, talks and events on the
agenda , I know you are excited about all of them but
what are some you think will be especially valuable
for 2020 attendees?

Soeren:
The Transparent Calculation Series may not
sound super-sexy, but it's really important! Along
with a session called Where Does the Money Come
From?, we're making some of the invisible forces
around domaining visible for the first time.
We're also running a session on estate planning
for domainers. Many domainers have been active for
more than 15 years now, so it's also time to look at
turning portfolios into legacies.
DNJournal:
Another new event that immediately pops out on
the agenda is the full day devoted to
casual networking in an entertaining
environment – the Saturday Fun Day that
will close the show on February 1st. 
I know you had a chance to test the
idea out with the Beach Day that closed the NamesCon
Europe show in Lisbon, Portugal
last summer, so you must have seen enough
there convince you this would be a great add
for NamesCon Global. How did you go about
translating the idea to the unique Austin
environment?


Helga:
We knew that ending NamesCon Europe with a big
beach party was a good idea, but we were very
happy to see how much everyone loved it.
To translate it from Portuguese to Texan, we
looked at some of the things that make Austin
famous: great music and great food.
Spending the day at Banger's
Sausage House and Beer Garden
sounds a little bit German, I know, but it
will highlight the best of what Austin has to
offer!

 

Helga
Neumer
Head of NamesCon Operations
DNJournal:
While it is always great to see new things added to
the agenda, there are certain elements that are
instrumental in making NamesCon Global what it is and
one of the most popular of those – the live domain
auction – will be back. But even the auction on January
30th will have a new twist this year as it is
being moved onto the GoDaddy
auction platform while Monte Cahn
and his RightOfTheDot.com team return to
orchestrate the live action in the Omni Hotel
Ballroom. How is the catalog for this year's sale
shaping up and how will the new platform improve the
event?

Soeren:
GoDaddy's auction platform will take the live
auction to the next level, and some amazing names have
been submitted. It's exciting to see the pre-bidding
take off. Add.com is already over $130,000,
and lots of great keyword names are attracting
attention, like Shirts.com, Laptop.com, RentalHomes.com,
LegalFees.com and Singl.es. Some have
hit their reserve already!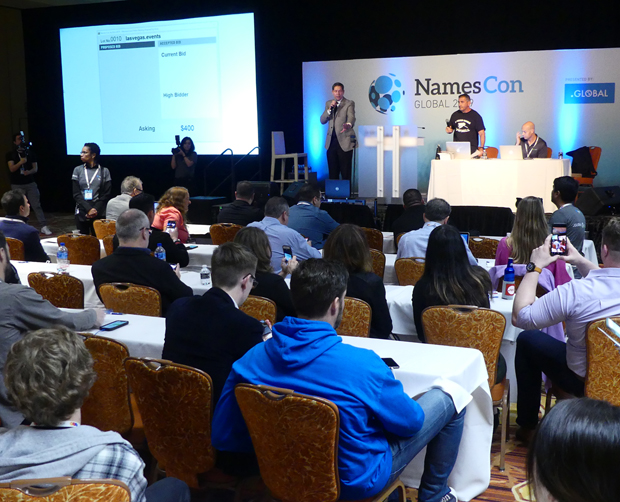 A
scene from the Live Domain Auction at the 
2019 NamesCon Global conference in January 2019.

DNJournal:
We've talked about Austin, but more specifically,
should also touch on the conference's new venue
– the downtown Omni Hotel. I know you did an
exhaustive search of Austin facilities before settling
on the Omni. What drew you there? 
Soeren:
The Omni has such a prime location. If Austin is the
center of the startup world right now, the Omni is at
the center of that. It's the bullseye.
DNJournal:
NamesCon has sold out of both of the two blocks of
rooms you had secured at the Omni,  but I
understand you have located some additional rooms in
hotels that are very near by.
Helga:
Yes, we arranged special attendee rates at the Driskill,
which is a historic site; and the Proper Hotel
Austin, which just opened. There's also space
for us at a really cool place called Aloft,
which will let you borrow a pair of cowboy boots for
the day!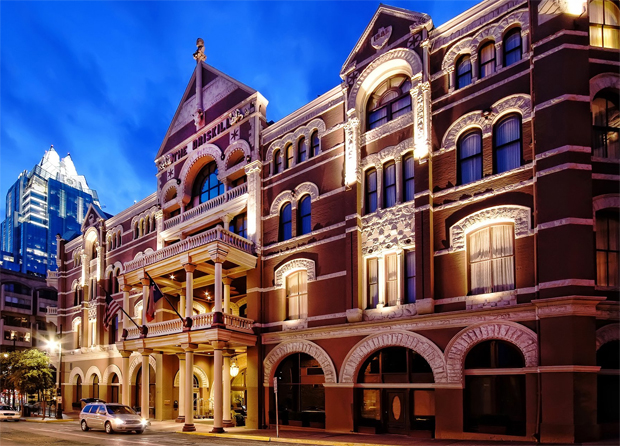 The
historic Driskell Hotel In Austin – one
of three hotels where NamesCon secured 
special room rates for NamesCon Global 2020
attendees after the Omni Hotel sold out.

DNJournal: 
Before we let you go, is there anything you would like
to add about what's ahead at NamesCon 2020?

Soeren:
If you've been wondering whether NamesCon is for
you, we're telling you that it definitely is!
If you work in the domain industry or as an investor,
your voice matters, and this is the place to use it.
Let's get together in Austin and change the game!
Helga:
For DNJournal readers, we also have a 30%
discount in place for now to make the
decision a little easier! We look forward to learning
and celebrating with everyone from this friendly
industry.
DNJournal:
Soeren and Helga, thank you for your time. We look
forward to seeing you in Austin!