NamesCon
Global has
released the agenda for their 7th
annual show coming up January
29 – February 1, 2020 at the Omni
Hotel in Austin, Texas.
After staging their first six events
in Las Vegas, NamesCon will unveil a
refreshed format in Texas to
complement their move to the energetic
capital city of America's biggest
state. The busy four-day agenda
will run on two concurrent
tracks – one designed for industry newcomers
and the other tailored for industry pros.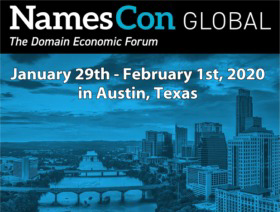 Three
full business days (Wednesday
through Friday Jan. 29-31) form the
core of the schedule, with a
Saturday, February 1 Fun
Day providing the grand
finale. That closing day will be
devoted to good food, refreshing
drinks, live music and casual
networking at an Austin hot spot – Banger's
Sausage House and Beer Garden. 
18
business sessions are set for
opening day (Wednesday) covering
domain investment, appraisal and
sales tips, the latest industry
trends, domain development including
SEO and lead gen, site security and
blockchain, to name just a few. Day
2 (Thursday) will be just as busy
with another full slate of business
sessions, expert round tables and
award presentations, all leading up
to the big NamesCon/RightOfTheDot
Live Domain Auction that, for
the first time, will be run on GoDaddy's
auction platform. The
auction is set to run from
4:30-7:30pm, January 30, 2010 (U.S.
Central Standard Time).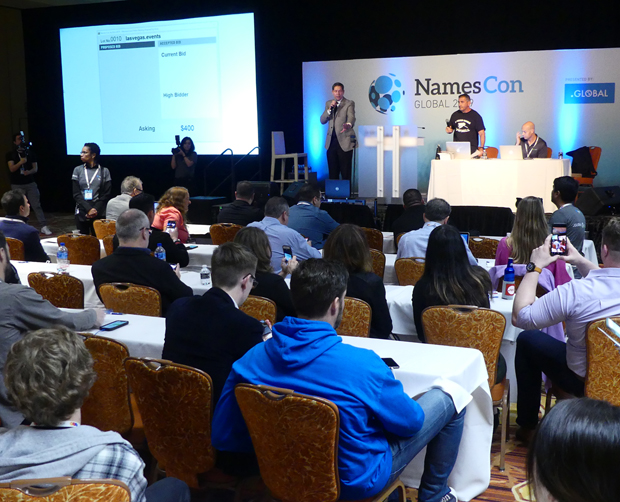 A
scene from the Live Domain Auction
at the 2019 NamesCon Global
conference last January.
Highlights
of the 3rd business day (Friday)
will include two keynote speeches
and a final round of business
sessions with topics including new
gTLDs, to the economics of running a
registry, managing large portfolios
and the power of domains in social
media, to cite just a few examples.
You can see the full
schedule here. While the
topics and times have been set, the
roster of speakers is still being
assembled and will be announced
soon. 
In
addition to all of the
activities noted on the
official agenda, individual
companies and organizations
stage their own special
events during NamesCon
week (usually in the
evenings after a busy day in
the conference rooms). One
of the biggest of those is
the annual Internet
Commerce Association
member's dinner. The ICA
is the non-profit
organization that fights to
uphold the rights of domain
registrants.

The
ICA dinner will be held
Wednesday night, January
29, 2020 from
7:30-10:30pm at Max's
Wine Dive in Austin with
sponsorships from Above.com
and Dynadot
helping the organization
hold the ticket price to
$100 per person (tickets are
available here).
Anyone who wants to join
the ICA before
the dinner can get a free
dinner ticket that is
being underwritten by
longtime ICA supporter Russ
Goodwin. ICA members are
also entitled to a 50%
discount off NamesCon
Global tickets, so there is
no better time to join the
ICA than now!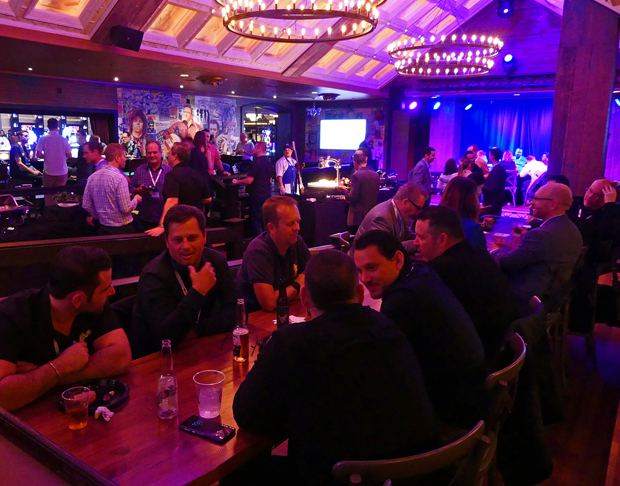 A
scene from the Internet Commerce
Association's 2019 Annual Member's
Dinner 
held in Las Vegas last January
during NamesCon Global 2019.
One
other note, NamesCon Global is
allowing us to provide all of our
readers with a special registration
link that will give you 20%
off the standard price for
tickets to NamesCon Global 2020. NamesCon
has also obtained a block of
discounted hotel rooms at the Omni
that can be booked here.
We would love to see you in person
in Austin but for those who can't
make it, we will, as always, be on
site to provide daily photos and
highlights from the big event.