utilized
for various conference activities
like keynote addresses and the live
domain auction. An official show
hotel has not yet been named but
there are many to choose from in the
immediate area around the Capital
Factory, a very popular location for
tech conferences of this kind.
In
conjunction with the move to Austin
NamesCon is also adopting a new
tagline – The Domain Economic
Forum – to emphasis this is will
be a domain-focused conference
highlighting the economy that is
built around domain names and
serving as an invitation for the
domain industry's main players to
re-establish themselves in the
context of a larger tech sphere.
The announcement noted,
"Together we'll make the most
of the entrepreneurial and creative
elements of this tech-forward city.
Through industry-leader keynotes,
expert panels, hands-on workshops,
and a live domain auction, you'll
come face to face with the entire
ecosystem of the domain-name economy
like never before."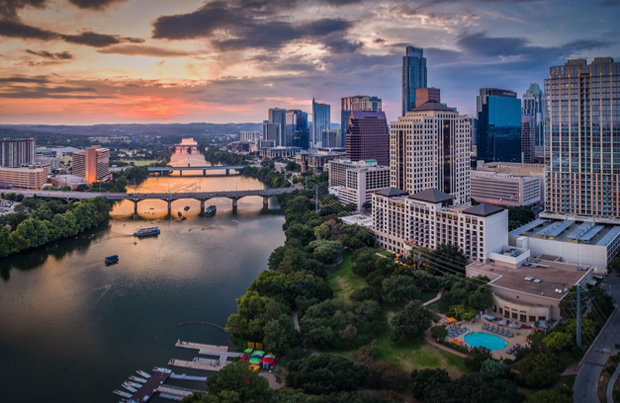 A
view of Austin, Texas from
the NamesCon Global website. The
conference will get 
a major makeover when it is staged
in Texas's lively capital city next
January.
NamesCon
Global 2020 also just opened the
doors for registration.
They are offering early-bird
tickets for $349. The price is
scheduled to go up to $499 on July
31.