by
next summer, attendees will finally be able to meet face to face for
the first time since NamesCon
Global 2020 last January when NamesCon Europe 2021
re-opens the real world doors July 15-17 in Budapest.
2021's
biggest event, NamesCon Global, was originally planned to be a live
conference in Austin, Texas in January but Covid squashed that
possibility. So, organizers have decided to move the Global conference to Autumn
2021 with a location and exact dates still to be determined. That show
is being planned as a hybrid event, meaning the show will be
open to both attendees on site and those who want to participate online from
their own homes or offices. Call it the best of both worlds.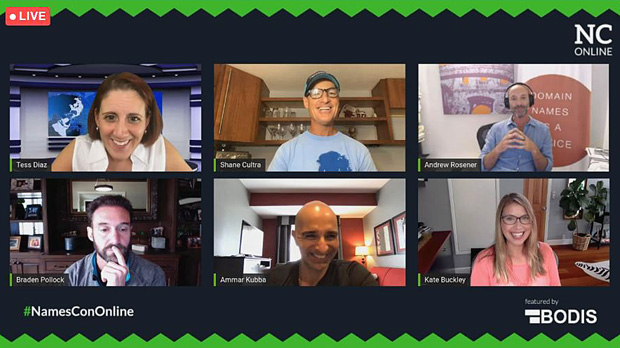 A
screenshot from NamesCon Online 2020 in September.
In
the meantime, NamesCon Online has proven to be an invaluable
substitute and, having done so in September, I would expect to see their
registration numbers take a big jump in January. Look for
registration to open before the end of October. 
As
for NamesCon Europe 2021, many of you will recall that Budapest was
supposed to host a 2020 Europe show in August but it had to be cancelled
because of Covid. Now, that historic and stunning city will get a another
opportunity wow domain investors from around the world next summer. 
Whether
it is online or in person, we look forward to see as many of you as possible
at NamesCon's 2021 events!