Last
month I
told you about a 
remarkable portfolio of 20
big city .com geodomains that
has been put on the market by Geocentric
Media. The portfolio,
that already included Houston.com,
Philadelphia.com, SanDiego.com
and Denver.com, among others,
has just gotten even more eye
popping. We've learned from
Geocentric Media CEO & Founder Fred
Mercaldo that LosAngeles.com and
SanFrancisco.com have just
been added to the unprecedented
lot. 
While
an exact price tag has not been
placed on the portfolio, Mercaldo
told us last month that the  number would
likely fall in the
$20 million range. An argument
could be made that the two new
additions – LosAngeles.com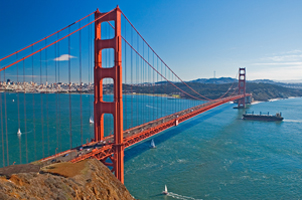 San
Francisco image from Bigstock