Welcome to the The
Lowdown from 
DN Journal – your source for notable news 
and information from all corners of the global domain name
industry! 

The Lowdown
is compiled by DN Journal 
Editor & Publisher Ron Jackson.
---
Latest
Liquid Domains Market Report from
GGRG.com Shows Jump in Both Public
and Private Sales 
GGRG.com,
the Lisbon, Portugal based domain
brokerage and consulting firm
headed by Giuseppe Graziano,
has posted the 17th edition of
their Liquid
Market Report (LMX).
The new report covers aftermarket
sales results for
"liquid" domain in the
3rd quarter of 2020. GGRG defines
liquid domains as short .com
domains comprised of 2-4
letters, 2-5 numbers or a
combination of 2-3 characters
mixing letters and numbers. 
The
LMX, presented in infographic
format, reported just over $3
million worth of publicly
reported liquid domain sales in
3Q-2020. That represents a 2.4%
increase over the previous
quarter. However, the LMX found a
much larger 48% surge  in
private 2Q-2020 sales in terms of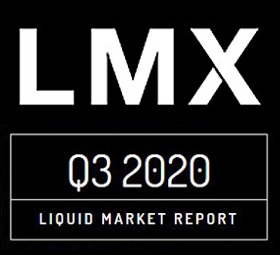 total
dollar volume reported by Escrow.com (Escrow.com does not report
individual domain sales prices). They handled over $13.3 million
worth of liquid domain sales in 3Q-2020. 
There
has been much speculation over the years about what percentage of the
aftermarket is represented by publicly reported sales? No one knows what
that number is but these numbers may provide a clue. The private sales total
at Escrow.com alone is over four times more than the publicly
reported total for this slice of the market. No telling how much bigger the
private number would be if we knew the dollar volume from unpublished sales
transacted through other financial service providers. However, this does
underscore what we've said for years – publicly reported sales are just the
tip of a very large iceberg. 
Fred
Mercaldo
CEO & Founder
Geocentric Media

In a related GGRG note, Giuseppe
Graziano recently published the latest article in his series of
in-depth domain
industry interviews with an excellent profile
of geodomain pioneer Fred Mercaldo. Fred, the CEO and
Founder of Geocentric
Media,  is a long time friend who was featured in a
2013 DNJournal
Cover Story. He has been a very busy guy since
then, so Giuseppe's piece provided a great update on what one of the
industry's good guys has been doing in recent years, as well as the
fascinating path that brought him into the domain industry in the
first place. Like almost everyone else in this business, Fred came
into it from a different field. In his case, many different
fields, including the insurance, real estate and art! Be sure to check
it out.
(Posted
October 20, 2020)  
*****