Welcome to the The
Lowdown from 
DN Journal – your source for notable news 
and information from all corners of the global domain name
industry! 

The Lowdown
is compiled by DN Journal 
Editor & Publisher Ron Jackson.
---
After
Traveling a Parallel Path to
Success, Efty and DAN.com Join
Forces in Marketplace Integration
Efty.com
and DAN.com
have been two of the most
innovative companies to emerge in
the domain space over the past five
years. Efty brought a unique
software-as-a-service business
model to the domain aftermarket,
allowing customers to pay a
membership fee to use their
marketplace instead of paying
commissions on their sales.
DAN.com (short for Domain
Automation Network) shook
things up by slashing commissions
and fees when they introduced the
first marketplace that can handle
fully automated domain
transactions (including sales,
rental and escrow functions).
Since their debut DAN has booked
over $100 million in domain
sales.
An
interesting aspect of these
companies is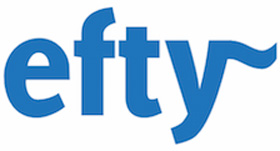 the
parallel paths they have traveled. Both are Netherlands based, both
had their first face to face meetings with domain buyers and sellers when
they set up small booths at the 2016 NamesCon conference in Las Vegas
and now they have formed a new partnership that has leaders from both
companies fired up.
EFTY
Co-Founder Doron Vermaat

Efty Co-Founder Doron Vermaat said,
"We're excited to make DAN.COM's
frictionless escrow process, speedy payouts, and seller protection
available for all Efty users. Integrating DAN.COM into
your Efty account allows you to display Buy-It-Now buttons on your
For-Sale landing pages and/or Efty marketplace sites. Buyers will be
redirected to a safe and secure checkout on the DAN.COM website
where they can immediately pay for the domain with a wide range of
payment methods that include credit card, PayPal, Alipay, Wire and
Bitcoin. All transactions from Efty sellers are processed by DAN.COM
at an industry-low commission of 5%."
DAN.com CEO Reza
Sardeha added, "When we look at which trends are dominating
the world but also high-tech, we observe that there is too little
cooperation and too much protectionism of own interests across the
board. What excites me about this partnership with Efty, is that we
can make a stance and proof that collaboration between industry
leaders to deliver great value on all ends of the spectrum still
has a place in this market and the world. Hopefully, this inspires
more cooperation between not only domain industry players but
beyond."

Sardeha added, "We
look forward to working with one of the best companies out there. I
know for a fact that Doron and Lionel are grinding day
in day out to add value to their users and we're proud to work with
them."

DAN.com
CEO Reza Sardeha
(Posted
August 25, 2020)
*****